The Series 40 family of chambers was designed for research requiring the fast exchange of round coverslips. The chamber design consists of two parts; a polycarbonate chamber and a 40 mm diameter aluminum base. The height for these low profile chambers is 4.9 mm at their edges and tapers from the sides. O-rings are used to seal the coverslip to the chamber and to hold the chamber securely in the aluminum base.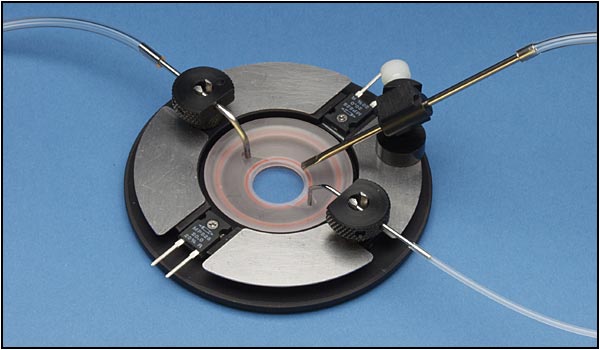 The RC-40LP, RC-41LP, RC-42LP, and RC-48LP chambers use round coverslips in a round bath design to provide maximum viewing area. The innovative design of these chambers use O-rings to seal the coverslip to the polycarbonate chamber. As a result, little or no silicone grease is needed to make a seal and mechanical fasteners are not required for coverslip mounting. These chambers work equally well with both water and oil immersion objectives, and maximize the viewing area providing optimal access for electrodes.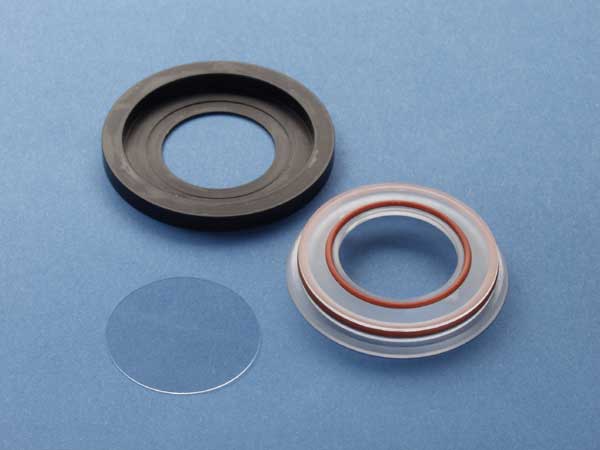 Open bath models are designed for electrophysiological recording and/or optical imaging, and are used in applications including patch clamp, oocyte clamp, and physiological measurements on cell cultures and tissue preparations.
Series 40 chambers are designed to be compatible with Warner's QE-1 Quick Exchange Platform and DH-35iL and DH-40iL culture dish incubators which are compatible with Warner Series 20 microscope stage adapters.
A temperature controller TC-344C or TC-324C that connects to the heated platform QE-1 or the microincubators DH-35iL and DH-40iL can be added to set and maintain a certain temperature.
Perfusion can be achieved by adding a VCS Perfusion System, the DWV vacuum system takes care of the waste.
The RC-40LP, 41LP, 42LP and 48LP Chambers are supplied with one package of #1.5 coverslips each (25, 18, 15 and 12 mm round, respectively) and spare O-rings.