A common problem with immersion optics is the loss of thermal control of the solution directly adjacent to the microscope objective. The need to keep a sample at a temperature different from ambient during observation is directly compromised by the heat-sink character of the microscope objective.
The OWS Series Objective Warmer from Warner Instruments provides a simple and effective method for maintaining a stable temperature within a microscope objective. This in turn reduces the thermal gradient between the lens and sample.
A thermally controlled collar attaches to the microscope objective via soft silicone rings. The collar incorporates a resistive heater and thermistor which allows the included electronic controls to maintain the objective warmer at a constant and well maintained temperature.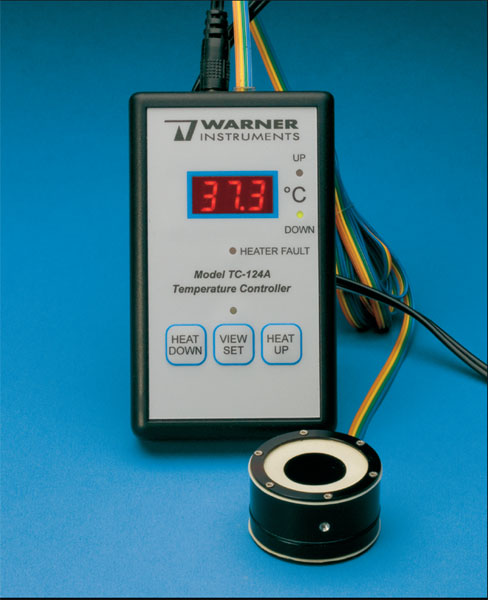 Heat generated by the isolated collar is not directly communicated to the objective but is instead distributed around the objective via a conducting sleeve.
The conducting sleeve warms the surrounding air, which in turn gently warms the objective. This approach allows the apparatus to take full advantage of the thermal characteristics of the surrounding air. The warmer achieves its task without directly contacting or exposing the objective to significant stresses associated with temperature gradients.
Collars are available to fit objectives from most microscope manufacturers and custom designs are available.