The CL-200A Dual Temperature Controller is a two channel controller capable of accurately maintaining two Peltier devices between -6° and 65°C. Power for the instrument is provided by a low noise power supply making it suitable for use in sensitive electrophysiology applications.
While the CL-200A has broad compatibility, it is specifically designed to control the SC-20 Dual In-line Solution Heater/Cooler in combination with any of our heated and cooled stage chambers using the PHC heater/cooler jackets. The device, however, can also be used with any of our heater-only platforms and requires an ACC-1 adapter cable to fill this role. All Warner Peltier-driven devices require the use of the LCS-1 Liquid Cooling System to maintain temperature control.
The CL-200A has a single control for temperature adjustment making it simple to set up and use. While total automatic control is provided in the automatic mode, a manual control mode is also available.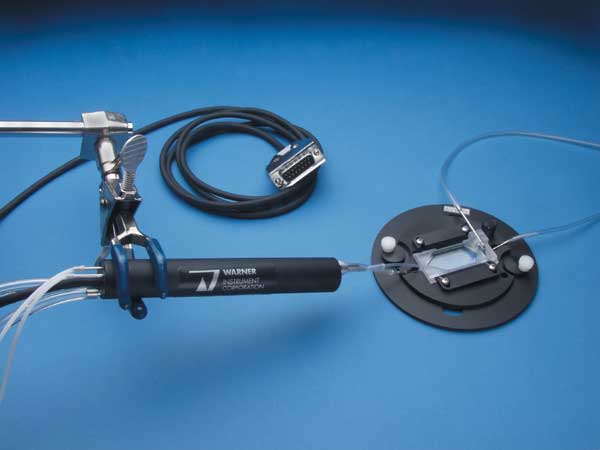 The choice of feedback thermistor is user selectable. Choosing T1 (control thermistor) utilizes the thermistor built into the attached peripheral device. Choosing T2 (monitor thermistor) directs feedback control to any location at the user's discretion. A loop-speed selector is available to synchronize the feedback response of the system to the intrinsic thermal delay characteristics of the setup.
Built-in circuitry limits the maximum temperature of the Peltier to prevent thermal damage. A freeze alert is also included to indicate when the cold side of the Peltier reaches 0°C.