Many experiments in electrophysiology use a brief voltage or current pulse to excite nerve or muscle cells. The voltage required to send this current through tissues can vary over a wide range. In addition, to minimize artifacts in the experimental results, it is desirable that the source of this E.M.F. should be isolated both from ground and from the timing generator used to release the stimulus.
The DS2A Constant Voltage and DS3 Constant Current isolated stimulators fulfill these requirements by using self contained batteries as the power source and optical coupling is employed to isolate the stimulator from the trigger source. Precise timing of stimulus application can be controlled by a PC or other generating device such as the DG2A Train Delay Generator.
The DS2A has two output ranges with voltage maximums of 9V or 99V, and the DS3 has four overlapping decade ranges providing current maximums of 32 µA, 320 µA, 3.2 mA, and 32 mA. All ranges are continuously adjustable by a calibrated multi-turn output control and the polarity of the output can be reversed by a toggle switch. The time duration for both stimulator's output is adjustable from 20 µs - 2 s via panel controls or via TTL pulses.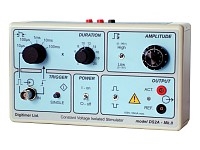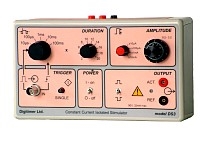 Current is drawn from the batteries only when delivering an pulse, minimizing the drain on them. The maximum current drain is 30 mA plus the load current. These instruments have nonconductive enclosures and may be mounted on a metal mounting frame without connecting the internal circuitry to ground. A single shot button is provided which can be operated at all times irrespective of the trigger input status.
Constant voltage or constant current?
The visible difference between the two units (apart from the color) is that the output of the DS2A is defined in Volts while the output of the DS3 is defined in Amps. The actual stimulus passing through your preparation is measured in current in both cases and is dependent upon Ohms Law (V=IR).
If your preparation has a variable impedance (R) and you are using a constant voltage (V) source such as the DS2A, then the actual current (I) passing through the tissue may vary considerably between each stimulus, which may not be a good idea if you want to apply reproducible stimuli. With the DS3, the constant current circuitry prevents variations in the tissue or electrode impedance from altering the size of the applied current (within the 90 V compliance limit of the unit), leading to the stimulator equivalent of WYSIWYG – "What You Set Is What You Get".
Unfortunately there are no well defined rules governing the circumstances under which stimulator should be used. Generally speaking, however, the constant voltage stimulator is more common in the literature.