A webinar of this product is available for viewing.
See it here.
---
The IonFlux System delivers a high throughput solution for ion channel drug discovery and research. The system provides outstanding patch clamp performance in a complete, easy to use system with "plate reader simplicity". Fluxion's proprietary Well Plate Microfluidic™ technology eliminates pipetting steps, and allows continuous recording of cell ensembles. The fast compound addition and continual washing enables both ligand-gated and voltage-gated studies.
IonFlux comes in two configurations to meet the widest variety of application needs
The IonFlux Mercury is ideally suited for ion channel research and assay development. This system features 16 independent amplifier channels and works with proprietary SBS format 96 well plates supporting 8 independent experiments per plate.
The IonFlux Mercury HT features 64 independent amplifier channels and is designed for high throughput screening of ion channel targets. The SBS format plates used with the Mercury HT support 32 unique experiments per plate.
Both systems offer cell ensemble recording to improve reliability and reduce variability.
Ionflux System Overview
Ion channels are an important, yet under served drug target class, making up over one fourth of druggable targets
IonFlux is the first instrument of its kind to offer a scalable solution for automated electrophysiology. With a low cost per data point, high experimental flexibility, and a space-saving footprint, the IonFlux is ready to meet all of your ion channel and drug discovery needs.

In ion channel research…
Ion channel research is critical to understanding critical biological processes occurring throughout the cardiovascular, metabolic, and nervous systems. The manual patch clamp technique is often employed to record currents from individual cells, but these experiments are limited to smaller data sets. The IonFlux Mercury is the first instrument of its kind to offer the convenience and throughput of automated patch clamping at a price that fits the budget of the individual research lab.
The IonFlux Mercury can be used for a wide variety of ion channel investigations, including:
Functional expression of ion channels
Compound profiling
Mutant and cell line screening
Recording from primary cells
Transient transfection
In ion channel drug discovery and development…
Ion channels represent a major classification of targets for drug discovery. They play critical roles in many disease conditions including pain, epilepsy, Alzheimer's, and cardiovascular conditions. Patch clamp measurements are essential to ion channel drug discovery, but the manual technique and first generation automated instruments do not provide the throughput and flexibility required to meet the needs of screening workflows and cost targets. The IonFlux Mercury HT offers the highest throughput at the lowest running cost of any automated patch clamp instrument available.
Features
Benefits
Reduces time to publication
Accelerates drug discovery and development
High throughput design with 16 or 64 channels of amplification, all run in parallel
Simple to use with "plate reader simplicity"
Eliminates need for manual patch clamp technique
Ensures quick setup of experiments
Small, bench top footprint
Compatible with lab automation equipment
Reduces lab space needed
Facilitates integration with existing HTS workflows
Addresses both ligand- and voltage-gated ion channels
Continuous recording capability with full wash-out
Ensures flexibility to address a wide variety of ion channel investigations and screening campaigns.
Principles of Operation
Well Plate Microfluidics: Providing the best of both worlds
The IonFlux utilizes an innovative Well Plate Microfluidic™ technology to embed micron-scale fluidic channels on the bottom of an SBS-standard well plate. This approach offers the convenience of using well plates with existing laboratory equipment. At the same time, it provides a high degree of functionality and flexibility for running ion channel investigations.
Cells and compounds are added to the well plate
Each IonFlux Plate contains an array of experimental patterns. Each experimental pattern comprises 12 wells: 8 for compounds, 2 for cell trapping, and 2 for cell inlet and outlet.
Cells are loaded in the inlet well, buffer is loaded into the trapping wells, and 8 unique compounds or concentrations series are loaded into the remaining wells of the experimental pattern.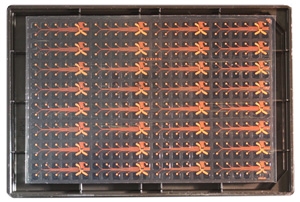 Cells are trapped in an ensemble array
Cells are pushed through the main flow channel using pressure from the instrument. An ensemble of 20 cells is trapped in small channels which resemble patch pipettes. There are two ensembles of 20 cells per experimental pattern each of which gets exposed to the same group of 8 compounds. This provides 8 data points in duplicate for enhanced data fidelity.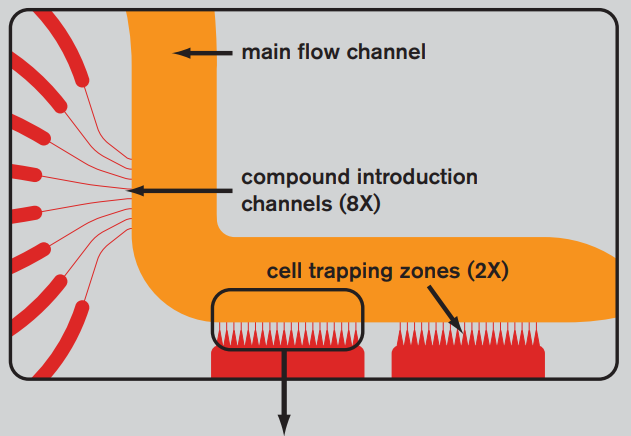 Current is recorded from each ensemble
Electrodes from the instrument are placed in fluidic contact with each 20 cell ensemble. Current is measured from the group of 20 cells using a discrete patch clamp amplifier. This approach produces high success rates since the recording averages the current across all 20 cells.
Compounds can be applied across the cells with full washout in between . The system uses continuous recording to facilitate recording from fast-acting ion channels.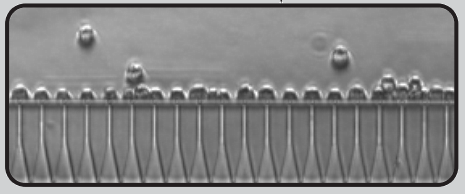 System Configurations
A system that meets YOUR needs
The IonFlux System was designed with a keen understanding that every lab has its own unique needs. That's why the IonFlux comes in two configurations to meet your specific requirements for throughput, automation, and budget.
IonFlux Mercury HT
The IonFlux Mercury HT is the highest throughput automated patch clamp system available today. It has 64 patch clamp amplifiers which run in parallel to produce up to 8000 data points per day.
Highest throughput system available
Lowest cost per data point
Compatible with lab automation hardware
Space saving footprint
Typical applications include drug screening, pharmacology, and cardiac safety profiling (hERG).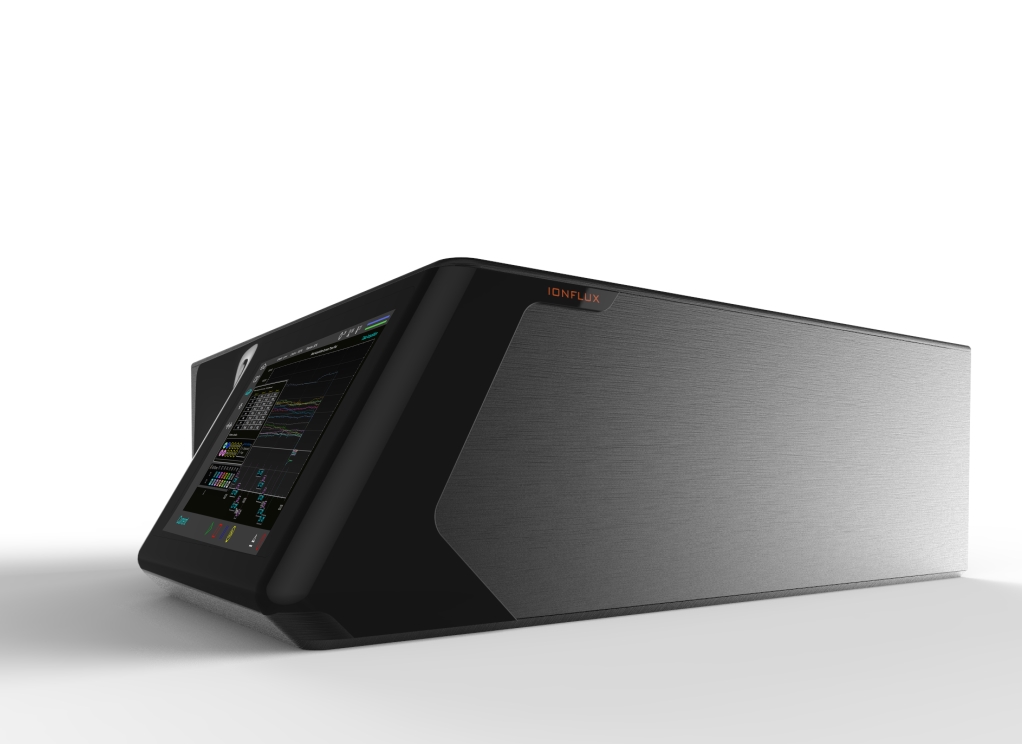 IonFlux Mercury
The IonFlux Mercury is the world's first mutli-channel automated patch clamp system designed for the individual research lab. It has 16 patch clamp amplifiers which run in parallel.
Ideal for ion channel research and assay development applications
Automated patch performance for the cost of a manual patch clamp rig
No patch clamp expertise required
Typical applications include functional expression of ion channels, mutant screening, and drug profiling.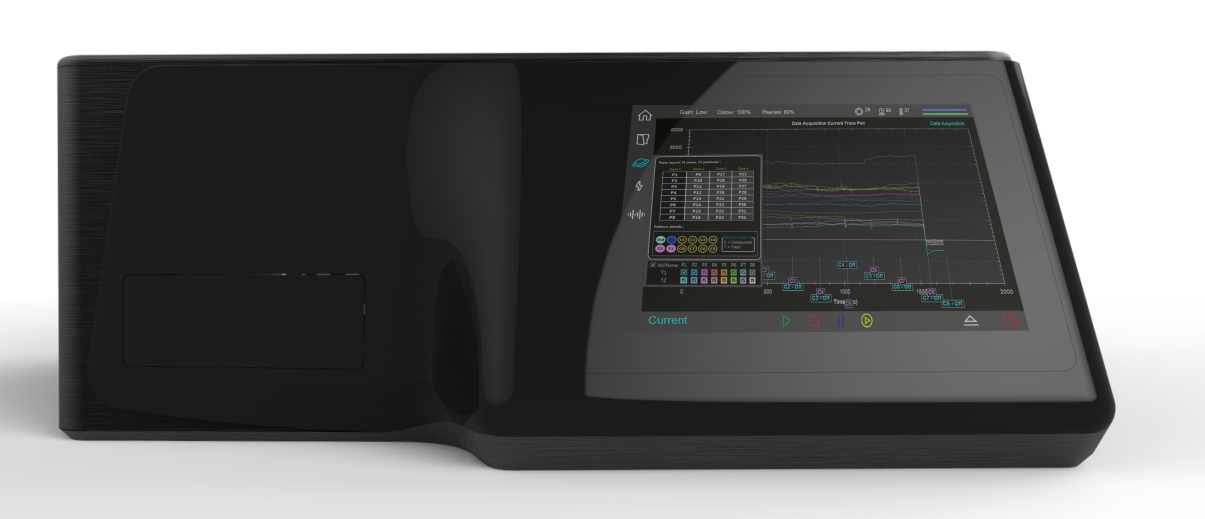 IonFlux Plate Configurations
IonFlux Plates are consumable devices featuring Well Plate Microfluidic™ technology. There are different plate designs to accommodate a wide range of ion channel applications. They are integrated into SBS-standard well plate formats for convenience and compatibility with automated liquid handling instrumentation.
Experimental Patterns
IonFlux microfluidic well plates contain an array of experimental patterns. Each pattern consists of 12 wells that are used to carry out an ion channel experiment. The wells are all connected to each other through microfluidic channels which run underneath the plate. Within an individual pattern, two of the wells are used to control the cell trapping process and two wells are used as an input and output for the cells. The remaining eight wells receive unique compounds or a concentration series. All eight compound wells can be applied to the cell ensemble trapped in a the experimental pattern.
IonFlux Mercury plates each contain 8 experimental patterns on a 96-well plate format, whereas IonFlux Mercury HT plates each contain 32 experimental patterns on a 384-well plate format.
IonFlux Mercury HT / 384-well
IonFlux Mercury / 96-well
Plate format
SBS-standard 384 well plate
square well
SBS-standard 96 well plate
square well
Working volume of well
100µL
250µL
Number of experimental patterns
32
8
Number of compounds per pattern
8
8
Number of cell recordings per pattern
2
2
Number of cells trapped per recording
20
20
Compounds tested per plate
256
64
Total data points per plate
512
128
IonFlux Software
Intuitive software control for maximum productivity
The IonFlux Software makes it easy to setup, run, and analyze complex ion channel experiments. The simple graphical interface and intuitive workflow enables users to get started quickly and increase productivity.