Pellet electrodes (E205, E206, HP205)
The pellet electrodes have a cylindrical AgCl pellet embedded on a 0.25 x 70 mm wire.
Suitable for probing tissue
Have a 1.0 - 2.0 mm diameter Ag/AgCl matrix at the tip
---
The E255 electrode (64-1317) has been discontinued and is no longer available.
We recommend using a thicker silver wire (0.37 mm; 64-1320) or the popular E205 electrode listed here.
---

---
Large pellet and disc electrodes (E200, E201, E202, E203, E204, E210)
Large pellet and disk electrodes are ideally suited for making custom assemblies of skin electrodes or other bioelectrical recording and stimulation apparatus.
All models have a 0.25 mm x 7 mm pure silver wire embedded into the Ag/AgCl matrix
Can be easily soldered or twisted onto other wires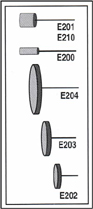 ---
Disc electrodes with lead wires (E242, E243, E244)
These Ag/AgCl disc electrodes are made with a flexible 20 cm lead wire attached to the back.
Electrodes can be used as direct-contact skin electrodes, or subcutaneously in temporary applications on research animals.
---
Silver wire
Ag wires made of annealed 99.99% pure silver are supplied for the convenience of researchers to fashion their own electrodes.