The Warner QE-1HCis designed to work with Warner QR and RC-40 Series quick release imaging chambers and all 35 mm cell culture dishes. Precise temperature control of the media is possible when combined with our low noise CL-200A or CL-100 temperature controller and the LCS-1 Thermal Cooling Module (heat exchanger). An integral water jacket is used to remove excess heat from the internal Peltier device.
Magnetic clamps hold cell culture dishes and quick change imaging chambers securely in place. Magnetic stainless steel along the perimeter of the platform allows for the use of included magnetic suction and perfusion tube holders (included).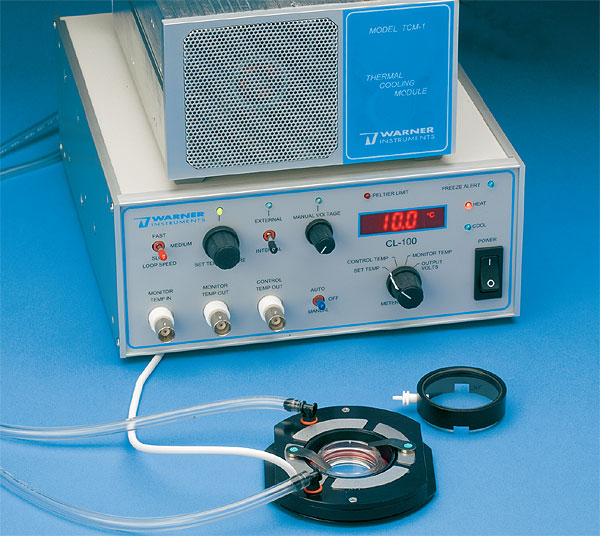 The QE-1HC fits the Series 20 stage adapters. All major microscope stages are accommodated. Custom or modified stage adapters are also available; call our Technical Support Department for details.
The QE-1HC is supplied with a 35 mm adapter ring kit- set of six, three sets of magnetic clamps for holding Petri dishes, one humidifying cover, one TA-29 bead thermistor, one MAG-3 magnetic holder for wires, one perfusion tube with magnetic holder, one suction tube with magnetic holder, 10 feet of PE-160 tubing, 20 feet of 1/8" ID x 1/4" OD soft tubing, 50 feet of 1/16" Tygon tubing, and a lift tool.