The CleanBenchTM combines the latest improvements to TMC's table tops with their gimbal piston air vibration isolation system. CleanBench offers more stability, better ergonomics, guided thread lead-ins, and a more compact design. TMC's vibration isolation lab tables are ideal for a wide variety of applications including AFM, confocal microscopy, IVF, patch clamp, interferometry, and metrology.
The CleanBench Advantage
A unique table top design combines the best features of TMC's CleanTop® steel honeycomb with an ultra-stiff, damped, layered platform.
Greater stability, especially for small size tables. The low profile, high density tops lower the overall floating center-of-mass ensuring inherent stability, even for relatively top-heavy payloads.
Guided thread lead-ins to align screws with tapped holes. The "bevel" shape eases engagement of the first thread.
Ergonomically optimized for the seated user by minimizing the thickness of the table top.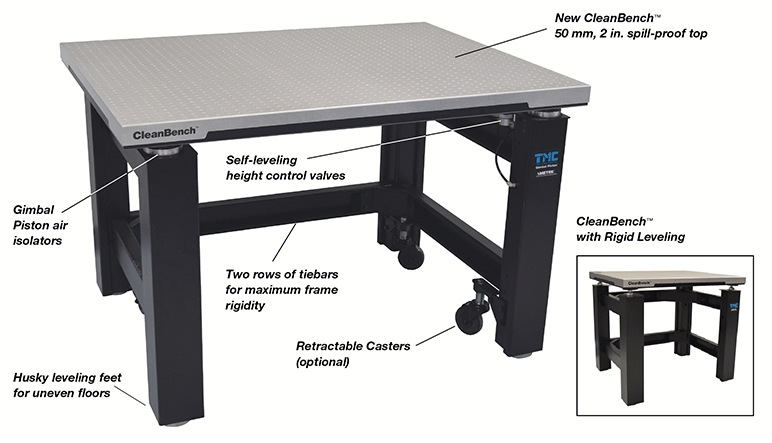 Top Selections

The smooth laminated top design (left) has been the ideal choice for small, desk-style vibration isolation tables. These 2-inch thick (50mm) platforms incorporate sandwiched layers of steel and core material, rigid epoxy bonded into a seamless, stainless steel shell with rounded edges. These are ideal for users who do not require a grid of tapped holes.
TMC also offers a threaded hole laminated top design having the same thickness as the smooth laminated design with no sacrifice in performance (right). This low-profile top offers superior damping, stiffness, and flatness in a easy to clean stainless steel shell. A unique core cross-section allows the design to be offered with a smooth surface or with a grid of imperial (1/4-20 on 1-inch) or metric (M6 on 25mm) tapped holes.
Table Top and Isolator Performance
Structural damping determines how quickly an excited resonance in a table top decays. The simplest way to measure damping is to hit the table top with a hammer and measure the decay with an accelerometer and oscilloscope, or spectrum analyzer. The height of a resonance peak in the 'compliance curve' also measures damping.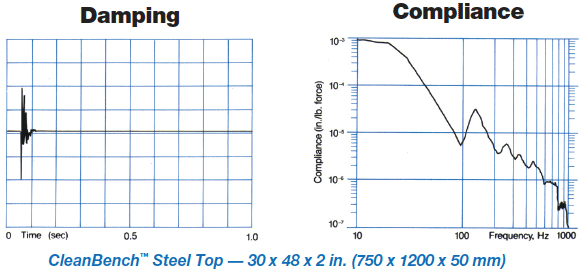 Compliance is a reciprocal measurement of the dynamic stiffness of a table top. The data are obtained by inputting a measured force to the table top with a calibrated hammer and measuring the resultant acceleration (or displacement) with an accelerometer. Compliance is the ratio of displacement to force expressed as a function of frequency.
All CleanBench tables incorporate TMC's gimbal piston air isolators as a standard feature. These isolators offer outstanding low frequency isolation in all axes and maintains performance specifications even when subjected to extremely low excitation input levels. Proprietary damping techniques allow the gimbal piston to stabilize relatively top-heavy payloads and quickly dissipate disturbances of the table top.
Accessories
Armrest Pads
Available for both Faraday cage and non-Faraday cage applications. Adjustable leather forearm rests fasten to the Front Support Bar or Perimeter Enclosure and can slide from side to side for added comfort. Sold in sets of two pads.
Sliding Shelves for Non-Faraday Cage Applications
Sliding shelves are made of wood with white plastic laminate covering all sides. Available in 6, 10, 14 and 20" widths. A metal bracket on the front edge of the shelf fits into the slot in the front support bar. Shelves slide freely from side to side and are easily lifted from the support bars. Builtin stops prevent shelves from sliding out of slots.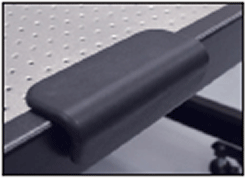 Casters
A set of four retractable casters with a total weight capacity of 1,000 lb (450 kg) can be mounted to the base of the table legs. Fits all tables.
Fixed Full-Perimeter Enclosures
A fixed, welded-steel structure that completely surrounds the table top to provide non-isolated support for the Faraday Cage and the sliding side shelf. Only accepts 8" wide Sliding Side Shelf.

Type II Faraday Cage
The Type II Faraday Cage offers improved access and simplified assembly. The "window-shade" type retracting front panel is easy to operate and causes reduced disturbance when adjusted. The front panel may be positioned anywhere between fully opened and fully closed, and stays in position without a fastener.
The Type II Faraday cage requires the full-perimeter enclosure to mount to the Cleanbench Series table and is only available as a table-mounted version.
Sliding Shelf for Faraday Cage Applications
An 8" wide shelf that slides freely from side to side within the Faraday cage enclosure.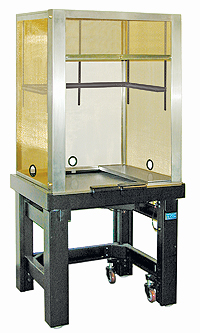 ---
BenchTop Faraday Cage
Until recently, TMC Faraday Cages were only available as part of a complete vibration isolation table system. Cages required a perimeter enclosure and could not be assembled without a TMC table as its base. Now, the same 40 inch tall cages are available with a baseplate which allows the cage to be used on a bench-top without a corresponding table. The base of the cage houses a reinforced stainless steel plate which can support a compact vibration isolation system, microscope, or other instrument.