Pellet electrode (E205)
The E205 pellet electrode has a cylindrical AgCl pellet embedded on a 0.25 x 70 mm wire.
Suitable for probing tissue
Has a 1.0 mm diameter Ag/AgCl matrix at the tip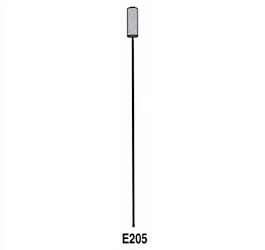 ---
The E255 electrode (64-1317) has been discontinued and is no longer available.
We recommend using a thicker silver wire (0.37 mm; 64-1320) or the popular E205 electrode listed here.
---
Silver wire
Ag wires made of annealed 99.99% pure silver are supplied for the convenience of researchers to fashion their own electrodes.