The MI-150 fiber optic illuminator for microscopy high performance cold illumination for the most demanding applications. The 150 watt halogen lamp provides the full visible spectrum of light at an "easy on the eye" soft white color temperature of 3250K.
Audible noise and vibrations at the source are minimal and replacing the lamp is fast and easy due to a convenient side access door. The MI-150 EKE lamp delivers 350,000 footcandles of high intensity light to a large variety of fiber optic light guide assemblies, making it one of the most versatile systems in the market today. Optional Infrared and color filters allow further customization of the spectrum to create the perfect lighting choice for your specific applications.
The MI-L150 is available without attachments or as part of a complete system that includes a single light guide, a dual gooseneck lightguide with focusing lenses, or a ring light.
Dual Gooseneck System
The self-supporting bifuracted light guide with starts from the light source with a transition incline of 45 degrees, from which the gooseneck branches diverge at an angle designed to accommodate any steromicroscope without interference to focusing or specimen manipulation.
Each seperate branch has a 5 mm bundle diameter and the 23" dual arm gooseneck inlcudes 28 mm focusing lenses. This system provides the most obedient light output placement for critical illumination.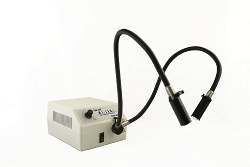 Single Gooseneck System
The single gooseneck is designed for applications that require a single, near horizontal, incident angle or a downward projected source of high intensity cold light. The single arm gooseneck is self-supporting and starts from the light source with a transition incline of 45 degrees.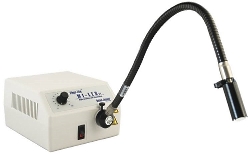 Ringlight System
The ring light illumination system provides high intensity illumination at the highest magnification and long working distances without light adjustment when refocusing or when zoom features are used. The optic output is an annular ring configured to supply 360° of brilliant, oblique, and shadowless cross-illumination directed toward the optical axis at working distances from 4-23 cm. Fits objective lenses with 50-60 mm diameter.