The SF-77C is a fast solution delivery device for use in patch clamp and electrophysiology studies. Control and test solutions flow continuously through adjacent delivery tubes and a stepper mechanism selects which tube is directed at the preparation. The rapid response and nominal hysteresis of the stepper allows for very short switching times. Complete solution changes are typically achieved within 20 msec for a large, 700 um step and times are significantly shortened as the step size is decreased.
Multiple Solution Studies
In the standard configuration, up to six different solutions can be connected to a single input manifold, which in turn is connected to one of three square glass stimulus tubes. The three tube design is superior to a two-tube design in that complex solution
An important capability of this device is that a large number of solutions can be used during the course of a single experiment irregardless of the compact size of the device. This creates the ability to use as many 15-30 different solutions in a single experiment.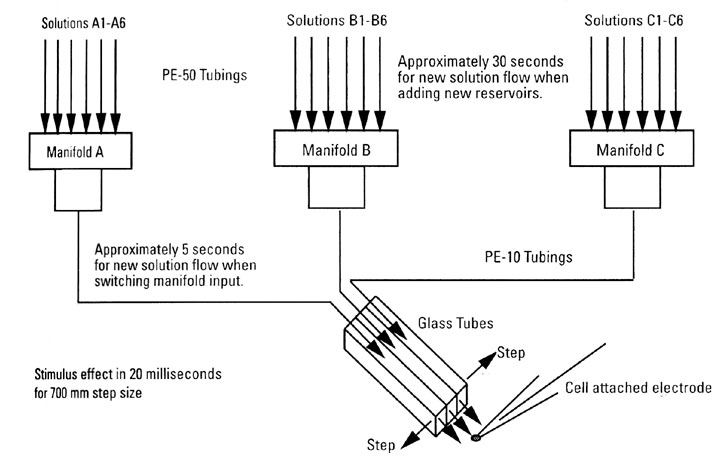 This is accomplished by having up to six solutions feeding through a manifold connected to each of the three "pipes" in front of which the cell may be placed. This allows any of the pipes to have any one of the multiple solutions flowing through it at any given time. It is also possible during the course of an experiment to change the solutions flowing into any of the manifolds, allowing a virtually limitless number of solutions to be used.
Acquiring this capability is best achieved by combining the SF-77C with a VCS-6M or VCS-8M mini valve system. This package can be seen on the VCS-77C webpage.
Bath vs Stepper solution flows
It's important to note that in addition to managing solution flow out of the SF-77C perfusion tubes, the flow within the larger chamber also needs to be managed since all flow velocities need to be the same.
A properly configured system will have a standard valve control system (such as the VCS-8P) dedicated to controlling the main bath flow, and a separate, smaller valve control system (such as the VCS-6M) dedicated to managing solution flow within the SF-77C perfusion tubes.
Having separate valve control systems for these two paths is critical for proper operation since the relative volumes and flow rates between the two are dramatically different and one controller cannot service both demands simultaneously.
Manual or External Control
The stepper mechanism can be manually controlled via the front panel or externally directed from your data acquisition program. Manually, the system can be stepped to 8 positions in 7 equally spaced steps. These same 8 positions can also be directly selected by applying an analog signal to the external analog input BNC or by passing a 3 bit word to the TTL inputs on the instrument rear panel.
Square Glass Ports
The square glass tubes used for solution delivery significantly reduces mixing turbulence, allowing the SF-77C to be used for studies with both membrane patches and whole cells, even when the cells are not fixed to a substrate.
System Versatility
The design of the SF-77C permits the use of various size glass tubing for perfusion delivery.
SF-77C: Standard System (0.7 mm ID tubes)
The standard system is shipped with 3SG700-5 single-walled 3-barrel glass tubing which eliminates the need to glue individual barrels together. Spacing between barrels is 0.7 mm and step speed between adjacent barrels is typically 20 msec. Single barrel SG800-5 tubes (up to 5) can be used with the same holder. Micromanipulator and magnetic base not included.

SF-77CLT: Large Tube System (1.0 mm ID tubes)
Larger ports are required when using the SF-77C with larger cell structures such as the Xenopus oocyte. Solutions are delivered through 1.0 mm ID square tubes (SG1000-5) with barrel-to-barrel spacing of 1.4 mm. Micromanipulator and magnetic base not included.
SF-77C/5M: Standard System with Five Manifolds
The SF-77C/5M is the same system as the SF-77C except that it is provided with five perfusion manifolds. Micromanipulator and magnetic base not included.
SF-77CST: Fast Stepping with Theta Tubing
Very fast perfusion stepping is possible using 2-barrel Theta tubing. The technique requires close attention to detail with careful placing of the pipes and the excised patch. The tubing is pulled on a standard puller for a tip diameter of approximately 300 um and a barrel spacing of approximately 100 um.
When using 100 um steps, it is important to minimize any vibration produced by the stepper motor. This is accomplished by reducing the motor voltage via the control located on the instrument rear panel. The voltage is lowered until the vibration artifact is minimized. Any residual artifact may be removed by subtracting averaged null traces.*
Easy Set-Up
The stepper mechanism is compact, lightweight, and free of either mechanical or electrical noise. The mechanism connects to the control box with a 2 meter shielded cable and is provided with a mounting rod for attachment to a manipulator. Manifolds can support 2, 4 or 6 inputs depending on the experiment. Solutions flow from reservoirs to the manifold through PE-50 tubing and PE-10 tubing is used to connect the manifold outputs to the glass tubes. Micromanipulator and magnetic base is not included.