The QR-40 and RC-40 Series chambers are designed for research requiring the fast exchange of standard sized, round coverslips. In both the QR and RC, a silicone o-ring seals the coverslip to the chamber top. The QR Series uses powerful rare earth magnets to attach the chamber top to the base, while this same attachment is achieved using o-rings in the RC Series.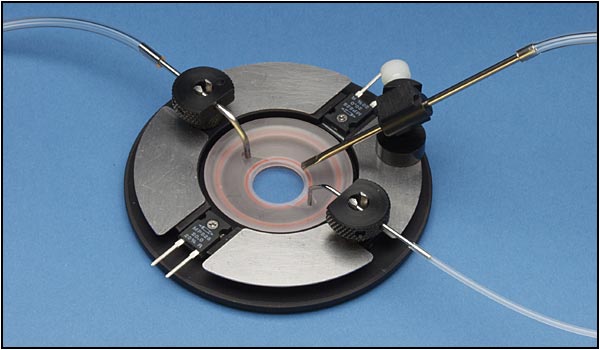 Assembly and disassembly of the QR and RC chambers is easy. For the QR Series, just hold the base and rotate the chamber 10º in either direction to release the magnets. For the RC Series, simply rotate the chamber while gently lifting up. In either case, this allows rapid assembly/disassembly of the chamber without the use of silicone grease.
Chambers employ round coverslips ito provide maximum viewing area. This innovative design uses a silicone o-ring to seal the coverslip to the polycarbonate chamber. As a result, silicone grease is not needed to make a seal and mechanical fasteners are not required for coverslip mounting. These chambers work equally well with both water and oil immersion objectives.
the round, low profile chambers are available for use with 12, 15, 18, and 25 mm round coverslips. The slotted bath chambers allow rapid solution exchange, and a version which includes platinum wires can be used to study cardiac myocytes and other applications requiring field stimulation.
The QR and RC-40 Series chambers are compatible with Warner's QE-1 Quick Exchange platform and the DH-35iL and DH-40iL culture dish microincubators, which are compatible with Warner Series 20 microscope stage adapters.
The QR Series and RC-40 Series chambers are supplied with one package of #1.5 coverslips each (25, 18, 15 or 12 mm round, respectively) and spare o-rings.