The DH-40iL microincubator is designed for imaging live cells under constant temperature and atmospheric conditions. This compact, versatile incubation system enables high resolution image analysis, fluorescence microscopy, and time-lapse imaging studies while accommodating both upright and inverted microscopes.
The DH-40iL will work, in both its open and closed configurations, with any Warner 40 mm quick change imaging products such as the RC-40 Series or QR-40 Series chambers. The DH-40iL also works with all 35 mm cell culture dishes from BD/Falcon, Corning, Nunc, Willco, WPI, and MatTek.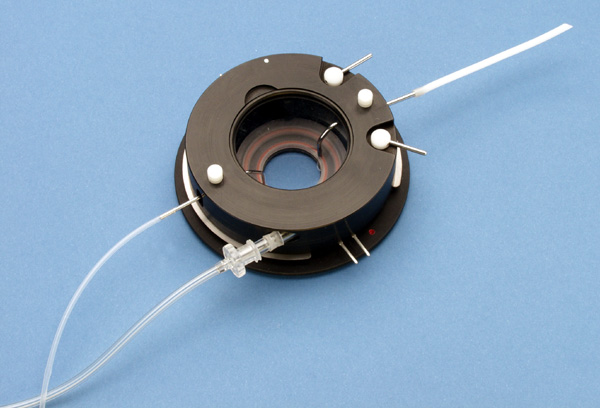 35 mm culture dishes do not all have the same OD and adapter rings are supplied to insure good thermal contact between the dishes and the DH-40iL. Clamps are also provided to insure good contact between the insert and heated surface, and to prevent movement. Both open and closed configurations provide for continuous perfusion of the sample.
The removable top of the incubator is magnetically held in place and has several sealed ports to allow perfusion, aspiration, and gas maintenance. Perfusion and suction tubes can be easily adjusted without disturbing the cell environment. When used in the open configuration, magnetic clamps are supplied to allow entry of perfusion and suction tubes into the unit.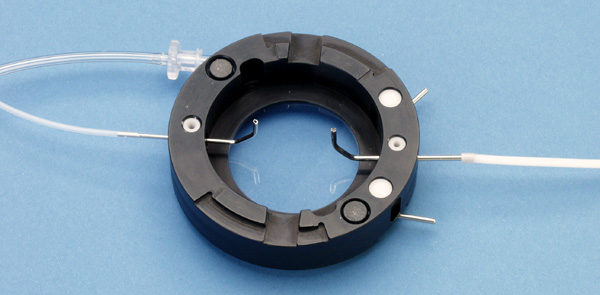 The base section of the DH-40iL has a 25 mm diameter aperture and the removable top section features a 40 mm glass aperture. Resistive heating of the DH-40iL is provided by means of Warner's TC-344C or TC-324C temperature controllers and a CC-28 cable.
The DH-40iL uses Warner's Series 20 stage adapters which are available for all major microscope stages.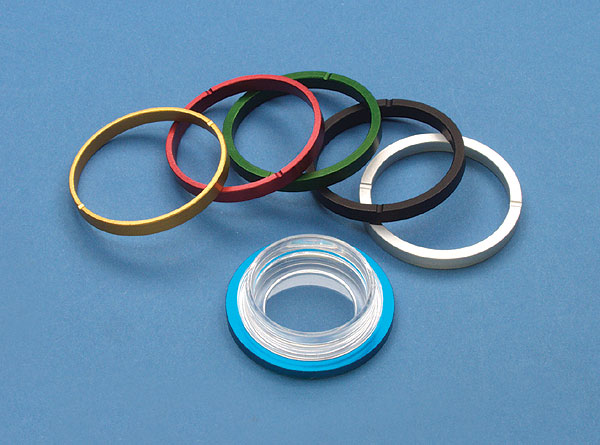 The DH-40iL microincubator package includes a set of 6 adapter rings, suction and perfusion tubes, magnetic holders, clamps for Series 40 chambers and 35 mm dishes, PE-160 tubing (10 ft.), 1/16. ID Tygon tubing (25 ft.), and 5 replacement 40 mm coverslips.